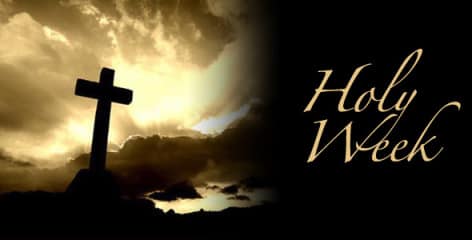 CHRISM MASS: Wednesday, 28th at 5:00 pm., HOLY ROSARY CATHEDRAL.
HOLY THURSDAY: March 29th at 7:00 pm – The Lord's Last Supper, with the washing of the feet, followed by Adoration of the Real Presence of our Lord ending at midnight with the Divine Office Night Prayer.
GOOD FRIDAY: March 30th
Stations of the Cross – 11:00 am
Good Friday Service – 3:00 pm
Poor Man's Super – to follow the Passion in Parish Centre
Novena to the Divine Mercy – 6:00 pm
Paschal Fast – Today is a universal day of fasting and abstinence. Fasting is required for Catholics from 18 to 60 years of age. The Church defines a fast as one regular meal and twi smaller meals that do not exceed the amount of a regular meal; and no snacks. Abstinence from meat binds those who are 14 yrs. and older.
Stations of the Cross in Spanish (Via Crucis) – 7:00 pm
HOLY SATURDAY: March 31st. – There is no morning Mass.
Novena to the Divine Mercy – 9:30 am
Blessing of the Easter Foods – 11:00 am (Reception to follow)
EASTER VIGIL: Saturday, March 31st, 9:00 pm
EASTER SUNDAY: April 1st  – 8:00 am, 10:00 am & 12:00 noon 
Novena to the Divine Mercy – after the 8:00 am Mass
EASTER MONDAY. April 2nd, 9:00 am
EASTER TUESDAY: Regular Schedule Resumes
 NOVENA TO THE DIVINE MERCY Continues April 2nd – April 7th: Monday, Wednesday, Thursday, Friday & Saturday after the morning Mass. Tuesday after the 7:00 pm Mass.