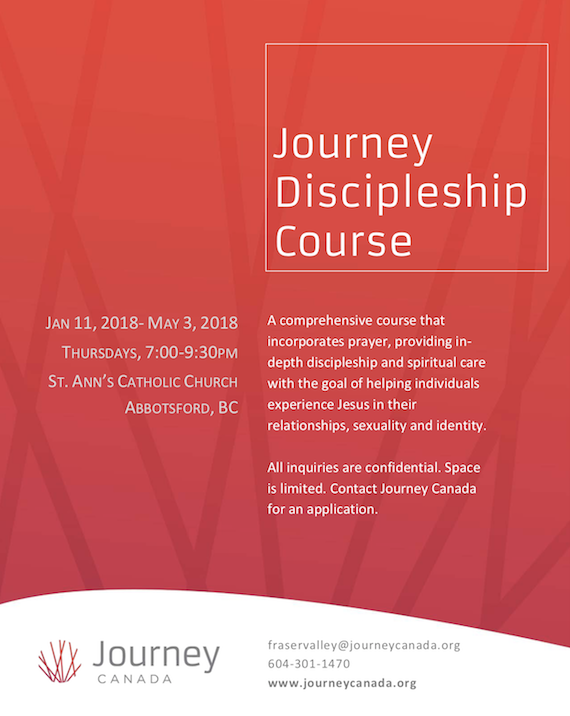 Journey Discipleship Course
This is a comprehensive course that incorporates prayer, providing in-depth discipleship and spiritual care with the goal of helping individuals experience Jesus in their relationships, sexuality and identity. Each evening consists of worship, teaching, and prayer in small groups. These gender-specific groups are safe places for bringing our struggles to God and each other. There are weekly reading assignments for reflection, study, and prayer.
Location: St. Ann's Parish Centre
Date: January 11, 2018 – May 3, 2018
Time: Thursdays, 7:00 – 9:30pm
Cost: $550 early bird*, $600 regular rate after December 11 (both rates include a non-refundable $25 application fee)
Details:
There are two day-long sessions (January 20 and April 7). Attendance is required at both in order to take the course.
More information you can download the Journy Discipleship Course Information Sheet 
WHO CAN ATTEND?
This course is for anyone willing to be open with others about their life, and who desires to deepen their relationship with Jesus. It is for those struggling with relational, sexual, or identity issues (such as unhealthy relationships, self-hatred, shame, sexual addiction, pornography, abuse, marital problems, unwanted self-identified same-sex attraction, emotional dependencies, etc).
*Early bird: Must receive your completed application and $25 application fee by December 11
HOW CAN I APPLY?
1. Email fraservalley@journeycanada.org to request an application for the Abbotsford Journey Discipleship Course. Apply early because space is limited.
2. Submit your application and application fee, which can be paid:
• Online via PayPal or Credit Card: www.journeycanada.org/event-payment
• By cheque made payable to "Journey Canada" and mailed to 300 – 291 E 2nd Ave, Vancouver, BC, V5T 1B8.
Contact Information:
Email: fraservalley@journeycanada.org
Phone 604-301-1470
Website: www.journeycanada.org