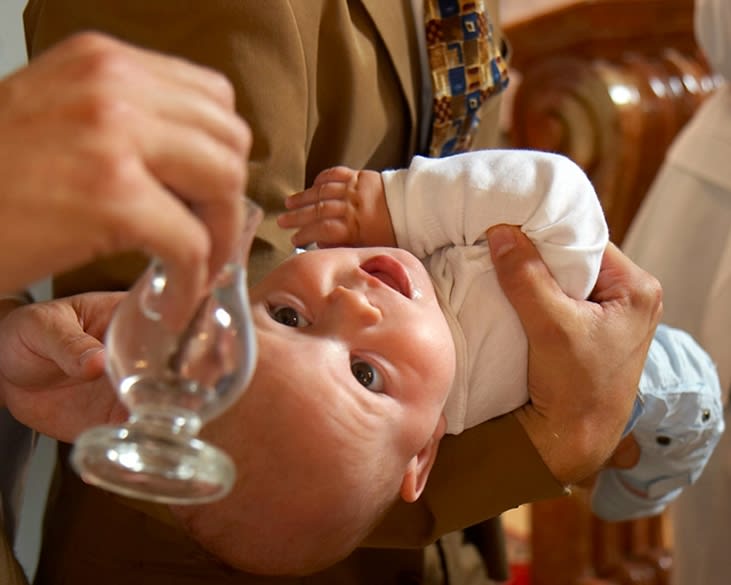 Holy Baptism is the basis of the whole Christian life, the gateway to life in the Spirit, and the door which gives access to the other sacraments. Through Baptism we are freed from sin and reborn as sons of God; we become members of Christ, are incorporated into the Church, and made sharers in her mission: "Baptism is the sacrament of regeneration through water in the word" (CCC 1213)
We encourage our parish families to present their newborn infants for the Sacrament of Baptism soon after birth because this sacrament is the foundation of the Christian life. In Baptism the child, freed from original sin, becomes an heir to the Kingdom of God, receiving the theological virtues of faith, hope, and charity and the gifts and fruits of the Holy Spirit.
Noah's ark is seen as a prefiguring of salvation by Baptism (1 Peter 3:20), for by it a few were saved through water. When the Jews fled Egypt by crossing the Red Sea, Israel was liberated from the slavery of Pharaoh; in like manner, the baptized is freed from the tyranny of sin and Satan by the waters of Holy Baptism.
To register for Baptism, please fill out a registration form available below. Once complete, bring it by the Parish Office or e-mail it here. A baptismal course is required for parents of their first child to be baptized. Godparents are welcome to attend the class as well. A Godparent registration form is also available below. Call the Parish Office to make an appointment to speak with one of our priests to make arrangements for the Baptism.
Teenagers and adults seeking Baptism or other Sacraments of Initiation are asked to contact the RCIA coordinator.