MEN'S SPIRITUAL EXERCISES RETREAT. March 16-18. Total cost is $230 Canadian. Retreat is Westminster Abbey, Mission, BC. This is a silent retreat designed for spiritual discernment and formation. Everyone will have the opportunity for confession and spiritual direction with the priests of Miles Christi from San Diego, CA. Email adultfaith@stannsabbotsford.ca for a registration form.
---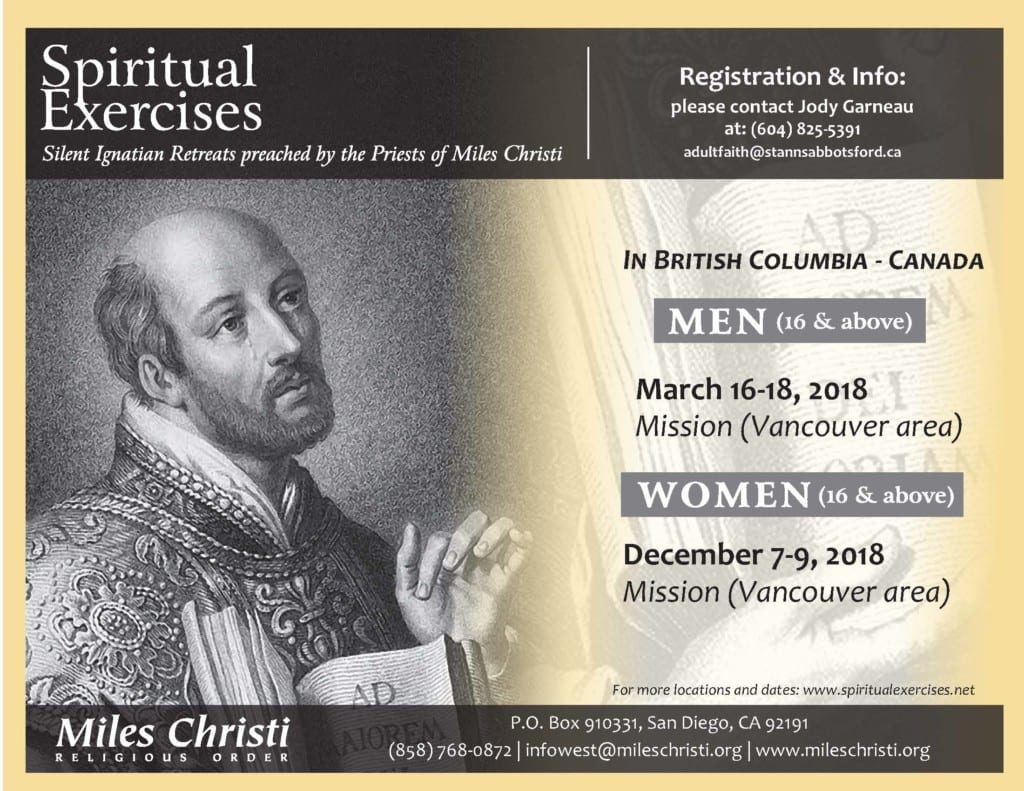 Returning for a 3rd year (6th retreat): the priests of Miles Christi will be in Canada to offer their signature Spiritual Exercises of St Ignatius. Two priests to work directly with the retreatants in this silent retreat. Space is very limited and all retreats have sold out early so register early to avoid disappointment.
"Spiritual retreats are particular graces, they are privileged opportunities, where the soul, separated from the busyness of daily life, may dispose itself to listen to God, place itself under the direction of the Holy Spirit, and totally correct itself to establish the Kingdom of Jesus Christ in it, in order to love Him and serve Him more.
"Among all spiritual retreats, we give clear preference to the Ignatian Exercises, received by the Saint of Loyola from the hands of the Blessed Virgin Mary in the cave at Manresa. In fact, the Spiritual Exercises have always received the greatest praises of the Church, thanks to the excellence of their spiritual doctrine, the sheer simplicity of adapting them to all types of individuals, the organic unity of its parts, and the methodical, clear, and admirable order of its meditations. They are, without doubt, a most powerful weapon of spiritual combat, of effective strength, in order to convert souls to God and lead them to greater divine service" (Miles Christi Constitutions 40-41).
Cost: $230 (private room, all meals)
Financial help may be possible. Please inquire with application
Here is the link to register: https://goo.gl/forms/xRDyYm1CfxrdVAqk1